Planning Your Christmas Party
Planning a Christmas party is no small task and involved a lot of your time. Saving time is all about hiring vendors that are able to get the job done and done right. It's all about creating a plan and executing. The good news is we know all of the best vendors in town. From Event planners to DJ's, from venues to caterers and everything in between. Plus we know the owners of the best photo booth in town! Ok, maybe we are a little biased. But don't take our word for it just ask around.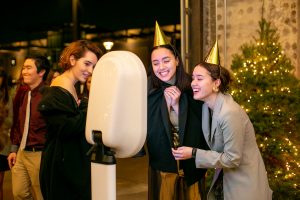 NO PARTY TOO SMALL, or too big
Whether you are planning a party for 20 people or a 650 person party we know how to entertain your guests. We also have packages designed to fit all occasions. Our photo booth are also able to fit in about any room so if you are hosting a Christmas Party at home we can do that too. If you are hosting a smaller event then you are going to need a photo booth company that knows how to work in tight quarters. With over 6 years in the event/wedding industry we have seen a lot. We are also prepared to learn because we know each event is unique.
Christmas Party Prints & Overlays
Custom designed prints and overlays are always included when planning your Christmas party photo booth. Of course if we already have a design you like we can re purpose it to your event. At the end of the day it is your event and it will be done the way you want it. On the left is one of our Salsa Booth overlays and on the right is a print design from our Legacy Booth. We have even had some clients choose no overlay for a Salsa Booth rental to keep it plain.
Ready To Party?
So you are ready to book your booth but you are sure where to start. First we recommend you take a look around the rest of our website. It does a great job showing you everything you need to know about our photo booths. If you still have questions then please reach out by email: funkytownfotobooth@gmail or you can text/call us at 419-944-9178.  If we don't answer please keep in mind we get invited to a lot of parties so we will respond a soon as we can. We can take care of your booking with you or if you want to do it all on our online booking system that is great too! We look forward to partying with you.