Yes, you have photo booth options
You have some great options to choose from with our photo booth so you are able to customize it to fit you and your event. So what photo booth options can I choose from? You can customize your prints. You can select your premium backdrop. You can select what kind of props are in your booth. You can even have your favorite actor, singer or movie star in your booth by adding a cardboard cutout.
Photo Booth Backdrops
Whether you choose the paint splatter for a birthday party, the silver sequin backdrop for your wedding or one of our magic sequin backdrops for your Star Wars party you can't go wrong with any of our premium photo booth backdrops. We make sure we purchase the best quality backdrops that are going to look good and make you look good in front of your guests. Just think about the excitement your guests will experience when your guests find out the photo booth you rented is more than just a box in the corner with some black curtain. Your guests deserve a booth with the best photo booth options available so why not upgrade the backdrop!
Custom Prints… Included.
That is right, we customize every clients prints to fit their event. No one wants to rent a photo booth take home their awesome looking print only to find out your friend who rented the same photo booth for their wedding last month had the exact same print design all they did was change the name. No cookie cutter services here, only the best personalize service for you! You can read more about customizing your prints here.
Props and Famous People
Of course you can choose which of our high quality props are used for your photo booth. We have your classic props like hats, giant sunglasses and funny ties. Or maybe you are looking to form your own band with our guitars, keyboards and microphones. It's also possible you are a huge fan of Star Wars and want light sabers and storm trooper guns in your photo booth. We also offer a Hawaiian luau and of course Christmas themed props for your Christmas party.
One of our favorite photo booth options is the ability to have your favorite celebrity in your photo booth by adding a cardboard cutout. Of course you want the real celebrity to show up but lets be honest do we really have the money to get them to make an appearance? Probably not, so its much easier to add a cardboard cutout for just $100. Who doesn't want a picture with Elvis Presley? We can make that happen! Best part is you keep the cardboard cutout after your event if you want it.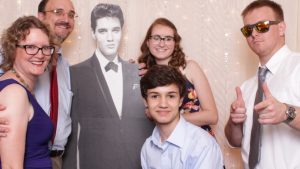 Do you like what you see? If so you can book your photo booth right now! Click here to lock your booth in today.