When people talk about a photo booth they think of a small cramped space where you sit down to take 3 or 4 pictures. Usually found in a mall, the classic photobooth was where you could create fun memories with one or two of your closest friends. You go behind the curtain, make some silly faces and within minutes you had your prints to remember the day by. What if we open things up a bit and created a space that created memories for everyone?
Bring the whole Group
Whether you are looking to rent a photo booth for your upcoming wedding, birthday party, family reunion or other event more people equals more fun! When you rent an open air photo booth that means you don't have to pick and choose which friends you want a photo with. That's right bring the whole group… our record in the booth is 27 people. We are ready to break that record whenever you are. Are you ready to assist with your event breaking the record in Toledo, Ohio and surrounding areas; Maumee, Sylvania, Rossford, and Perrysburg.
Entertainment Value
One of our favorite parts of the open air photo booth is that everyone else gets to watch. This does a couple things:
It inspires those in line to get more creative with their props/poses.
It motivates the guests who wouldn't normally try the photo booth to get in on the excitement.
Customized Backdrops
One thing that's sets us a part from other photo booths is our premium backdrops. Yes we have your standard white backdrop but why not upgrade to a gold sequin backdrop? Or what about adding one of our magic sequin backdrops to the party? Maybe you are looking for a custom printed backdrop with your company logo on it. We can do all of that with our open air photo booth
Photobomb Opportunities
Let's get serious for a second… alight that second is over. Who doesn't love a good photobomb and when was the last time you photobombed someone in an enclosed photo booth? That seems like reason enough to go with an open air photo booth.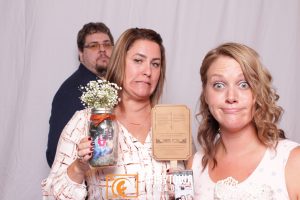 If you have further questions about what we do be sure to connect with us, we would love to answer any questions you have. Or if you see the value in our photo booth already then make sure you click book now.