Christmas Party Planning
The snow is falling, the Christmas lights are twinkling, the fire is roaring and now it's time to plan the Christmas Party! Wait a minute it's only July. It is only July however we are already booking photo booth rentals for Christmas parties and now is the time to book yours. So how do you choose the best photo booth for your party? If you ask us we of course recommend booking with us, however I don't expect you to take our word for it. What you need to do is see what other people say about a company. You can see what others are saying about us here. After you have seen what others have to say we think quality, professionalism and fun are the most important qualities in a photo booth rental.
Quality Photo Booth
Finding a quality photo booth for your Christmas Party is definitely not an easy tasks now days. Anyone can buy a camera and call it a photo booth but you have to look past their title and see that they are a reputable company that cares about your event. For us quality goes beyond the equipment we purchase. Yes each of our photo booth's have a professional grade Canon camera, a studio quality photo printer, professional photography lighting, the best quality premium backdrops and more. However what sets us apart if the time we take to make sure it is presented in a way that doesn't become an eye sore at your party. Our photo booth is where modern technology meets the nostalgia of yesteryear.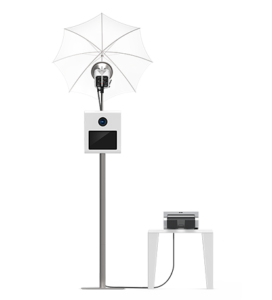 Professional Photo Booth Attendants
There are many photo booth's to choose from in northwest Ohio and they all have their way of doing things. Some will setup their booth and leave it for your guests to run themselves. Others will setup the photo booth and stick around to make sure things run smoothly. We however believe that a good photo booth attendant will setup the booth, stick around to make sure it runs smoothly and they will interact with your guests. Your guests deserve the best and the best means helping your guests have a good time. Our Photo booth attendants are well trained with the technology and they are trained to help your guests have fun.
We Put The Fun in FUNkytown
When you rent a photo booth for your party you expect it to provide fun for your guests. We do that with our fun props that everyone can enjoy, the premium backdrops that we offer and by giving them memories that will last a lifetime. If the photo booth you are looking at doesn't offer all that and more then we recommend looking further. If what we offer is perfect for you then we would love to extend our Christmas in July special going on all month long. Anyone that books a photo booth for their 2018 party, wedding or other event will receive their choice of a FREE premium backdrop at no extra charge. That is a $100 value we are giving to you. You can consider it your early Christmas present. Book now by emailing us or by clicking the book now button in the top right corner of the page. We are already booking dates in November and December so now is the time to lock in your date!